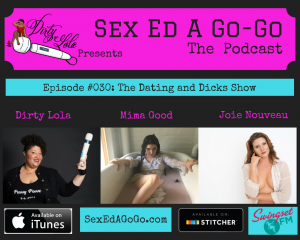 Witchy woman and musician, Mima Good and the sensual sensation, Joie Nouveau, joined Dirty Lola on stage at Otto's Shrunken Head on March 27th for another installment of Sex Ed A Go-Go.
Hey loves! Due to technical difficulties beyond our control, the audio for this podcast is a bit wonky. We cleaned it up as best we could, and we hope you still enjoy the show!
On this episode of Sex Ed A Go-Go, Lola and the crew chat about their dating highs and lows, tribbing vs. scissoring and other words millennials have ruined, jealousy, bad poetry, sex shop stories, and three way dates with cuckolds.
You can find Mima Good on Twitter, @Mimagoodwitch and online at Mimagood.com
You can find Joie Nouveau on Twitter, @JuJumagic and online at Julianeveu.wixsite.com