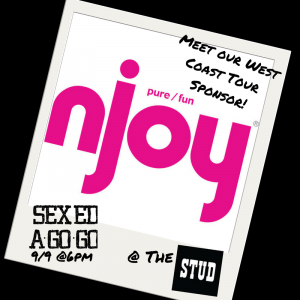 You read that right! The folks over at Njoy are sponsoring our west coast tour!!!
It's no secret that we are HUGE fans of Njoy. Not only do they make amazing sex toys, but they're also an amazing company that supports the sex ed community. They hold a special place in our sex geek hearts.
We are so excited to be working with them again. With their help we will be hitting San Francisco, Sacramento, and L.A. September 8th – 18th. Their support means we can concentrate on bringing our best out west.
To learn more about NJoy and their amazing toys visit NJoyToys.com.