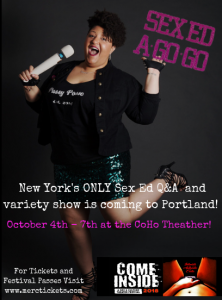 That's right Lovies! Sex Ed A Go Go is making it's Portland debut as part of Come Inside: A Sex and Culture Theater Festival October 4th – 7th. We are SO excited and honored to be a part of this amazing festival produced by Eleanor O'Brien of Dance Naked Productions.
Come for the titillation, stay for the conversations. Come Inside 2018 is a collection of sex-positive performances from across the spectrum of sexual identity. Eight performers from around the world are bringing their shows to Portland for a theater festival unlike any other.
Illuminating, inclusive and often hilarious, these stories resonate with emotional intimacy and theatrical flair. They celebrate sex (all kinds of sex) and the right to sexual expression. They offer thought-provoking, mind-expanding stories, curative comedy, restorative erotica, and stimulating post-show conversations.
Dirty Lola has curated FOUR shows just for the festival, so if you live in the Pacific North West and have always wanted to see us live get your asses down to the CoHo Theater!!
You can get tickets to the show as well as full festival passes HERE!
I hope to see yall there!!
xoxo
Lola