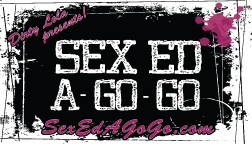 Do you like Go-Go dancing and knowledgeable chatty ladies with amazing cleavage? Then you definitely need to join us for the another installment of Sex Ed. A Go-Go at The Parkside Lounge!!!
Sex Ed. A-Go-Go is one part ADULT sex Q & A; one part go-go revue. We seek to inspire your libido and open your mind to a world of sexual possibilities one question at a time.
This month's topic: Gettin Lucky!! 
Join us for our Pre St. Patrick's day bash!
*Games         *Raffle & Prizes!!      *Go-Go!!!!!
The Parkside Lounge
317 East Houston
New York, NY 10002
$10 per person / $7 if you RSVP by 03/11/14
2 Drink minimum  
Make sure you have lot's of singles for our dazzling go-go girl!!!!