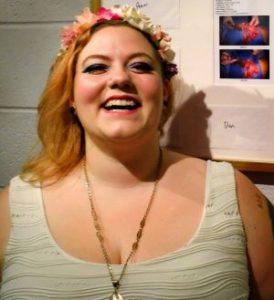 One of my favorite femmes will be joining the Pussy Posse for the third time! Cause she's that awesome!
Rebecca Hiles is a dating, relationships, and sexual wellness coach called The Frisky Fairy(www.friskyfairy.com ). She is a writer who addresses issues of polyamory, cancer, sex education, and sex toys. She has contributed to Sexpert.com, xoJane.com, and has had her writing featured on EverydayFeminism.com discussing her life as a polyamorous cancer patient, among other things.  She has spoken at CatalystCon East, West, and Midwest, Poly For All Seasons, AwesomeCon, Rocky Mountain Poly Living, Atlanta Poly Weekend, InfinityCon, The Geeky Kink Event, and Woodhull Sexual Freedom Summit. She is a member of the Poly Leadership Network and is certified as a sex educator through Planned Parenthood League of Massachusetts. She was voted one of the Top 100 Sex Blogging Superheroes of 2014 and 2015. She is a member and contributor to the Gentle Perverts Social Club   podcast. She is co-writing a book on coming out as poly (comingoutpoly.co) and you can help by submitting your coming out stories there.
Learn more about The Frisky Fairy on August 13th at SHAG After Dark! Get your tickets today!