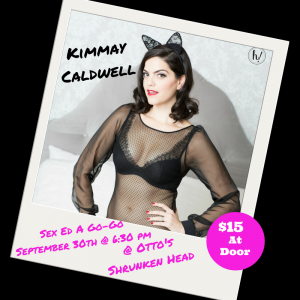 Kimmay Caldwell is a soulful bra fitter and marketer on a mission to help people everywhere say hurray inside, outside, and underneath™. Her career in intimates began in 2005 when she started as a bra fitter in a small NYC shop. It was then that her eyes were opened to the healing possibilities of a bra fitting. And after seeing what real bodies look like (not airbrushed falsities) she started her own journey of loving her body and now encourages others to do the same. Since then she has fit thousands of people for bras and swimsuits for cup sizes AA to N, run the marketing department for a lingerie retailer, and traveled the world to partner with some of the best brands in lingerie. In 2014 she started her own lingerie content marketing company, Hurray Media, which helps brands create educational and inspirational content and campaigns. 
You'll always find Kimmay sharing her advice and heart on her website, Hurray Kimmay, as well as in the press! During her years as the brand merchandiser for Saks Fifth Avenue and Bergdorf Goodman for La Perla, she appeared on The Martha Stewart Show and Tim Gunn's Guide to Style. These two appearances, at the age of 22, were just the start. You may have seen Kimmay sharing her bra fitting expertise and encouragement in magazines like Brides, Women's Health, Real Simple, and more. Or seen her on The Rachael Ray Show, or in national commercials for Warner's. Or caught her modeling a cup-sized bikini in O Magazine. 
When she's not home in NYC, Kimmay travels the world spreading the word about the positive impact of undergarments and learning to love yourself. Her adventures have taken her to Mexico, Puerto Rico, Guatemala, Paris, and so much more. She is the proud owner of a strawberry blonde cat, named Sunny and married to her wonderful husband, Trent.