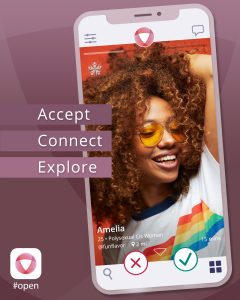 There was a time when I would go out and meet people at parties or at the bar, but as I've gotten older and busier dating apps have become my main pipeline to meeting new folks. I've invested a lot of time in crafting the perfect profile and tried my best to communicate who I am and all of the intersections of my identities using the very narrow parameters most of these dating sites provide.   While I think I've done a pretty good job at representing myself none of the dating sites I've joined over the years made it easy. As if It is 't already ROUGH out there in the dating world.
Then, there was #Open. A brand new sex-positive dating site that is dedicated to being inclusive and diverse. Seriously. When I created my profile I was ready to just copy and paste the same old description and struggle to check boxes for the same narrow categories you see on other dating apps, but I was pleasantly surprised. #Open was nothing like the other apps. Not only do they have 24 options for gender, 23 options for sexual orientation, and 10 options for relationship styles but they also allow you to create partnered profiles for all the different ways we link together. I also really enjoyed not having to fill in all of this information about my body. It just made the whole process a lot less stressful.
By the time I finished setting up my profile, I realized that #Open wasn't just giving lip service to being a more diverse and inclusive site. They welcome everyone to join, but their focus is to create a safer space for people of color; LGBTQIA folks; kinky people; trans, genderqueer, and non-binary folks; disabled folks; people of all gender identities and expressions, sexual orientations, body sizes, abilities, and relationship styles. They are working to create a space where folks feel seen in all of their identities. 

If you're tired of trying to fit yourself in a bunch of tiny boxes on dating sites or just don't feel seen or represented you should give #Open a try. I'm there! Come and find me!