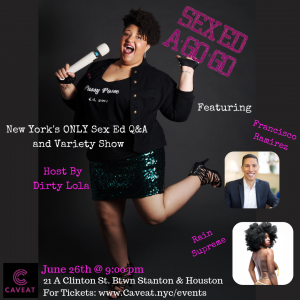 Welcome to New York's ONLY sex and body positive live talk and variety show hybrid, hosted by the indomitable Dirty Lola.
Sex Ed A Go Go is the perfect place for adults to ask frank questions and hear real conversations about bodies, fetishes, relationships, and other sex-related subjects from sex education and sex industry professionals. Grab a friend and join Lola and her Pussy Posse at their brand new home, Caveat to get your questions answered and check out New York's finest burlesque and go-go dancers all at the same time!
This month Francisco Ramirez & Rain Supreme will be joining the Pussy Posse!!
Get empowered, get sexy, and get going–live in New York City!!!
CAVEAT
21 A Clinton Street Btwn Stanton & Houston
April 13th @ 6:30pm
$18 Early Bird
$22 At The Door
Make sure you have lots of singles for our giver of go-go goodness Rain Supreme and for our awesome raffle!!